Contact Us
Shihan Chua Yeow Kee
Chairman & Chief Instructor
email: chuaykee@hotmail.com
Tel: (65) 6315 6036
Hp: (65) 9757 3681

Sensei Lee Yong Poh
Deputy Chairman & Instructor
email: davidleeyp@yahoo.com
Tel: (65) 6755 2951
Hp: (65) 9272 0822

Refer to SIM Club to get the contact of the President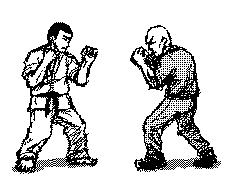 Mas Oyama's Philosophy
"The heart of our karate is real fighting. There can be no proof without real fighting. Without proof there is no trust. Without trust there is no respect. This is a definition in the world of Martial Arts."
"Human beings are capable of virtually limitless degradation; they are also capable of virtually limitless improvement and achievement. Success depends on goals and on diligence in pursuing them."
"If you do not overcome your tendency to give up easily, your life lead to nothing."
"One becomes a beginner after one thousand days of training and an expert after ten thousand days of practice."
"One must try everyday to expand one's limits."
"One living daily in the Way carries their head low and their eyes high; reserved in speech and possessing a kind heart, they steadfastly continue in their training efforts."
"Reading good books implants good ideas in the mind, develops good aspirations, and leads to the cultivation of good friends."
"The fastest way to attain courage is to follow the chosen Way and be willing to abandon life itself for the sake of justice."
"In the martial arts, introspection begets wisdom. Always see contemplation on your actions as an opportunity to improve."
"Studying the martial Way is like climbing a cliff: keep going forward without rest. Resting is not permissible because it causes recessions to old adages of achievement. Persevering day in, day out improves techniques, but resting one day causes lapses. This must be prevented."
"Sice Karate exists for cultivating the spirit and training the body, it must be a moral way surpassing mere techniques..."
"Karate is Budo and if Budo is removed from Karate it is nothing more than sport karate, show karate, or even fashion karate-the idea of training merely to be fashionable."